The Great Black Hawk is a bronze sculpture by Maine wildlife sculptor, David Smus. It is in commemoration of the rare appearance of a juvenile great black hawk in Portland, Maine in the early winter of 2018-2019.
The juvenile hawk, native to Central and South America, arrived in Deering Oaks in November 2018 and immediately attracted large crowds of birders and regular Mainers curious about the unexpected and unlikely visitor. Instead of feeding on its native diet of lizards and other reptiles, the hawk feasted on the park's squirrel population. It often was photographed with a bloody mass of fur and entrails in its grasp.
The Great Black Hawk, however, suffered in Maine's winter weather. It was found on the ground in January 2019 with severely frostbitten legs. Experts at Avian Haven in Freedom, Maine tried to nurse it back to health, but to no avail. Eventually the decision was made to euthanize the bird.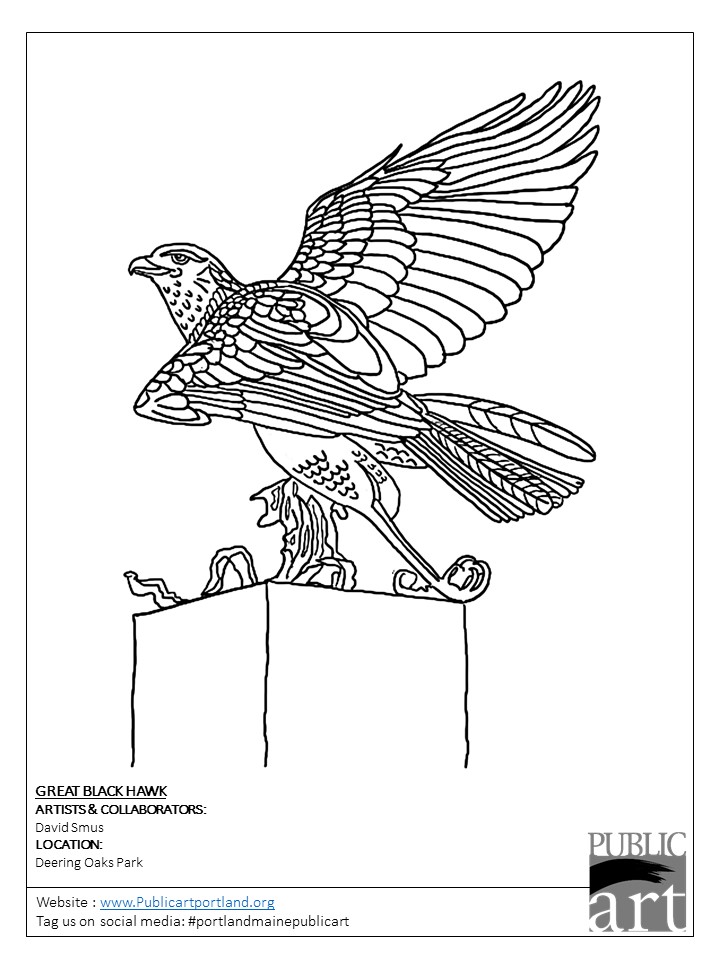 The Portland Public Art Committee is producing coloring sheets for children, young and old. JPEGs are letter-sized (8 1/2 x 11) and the
Great Black Hawk
coloring sheet
can be downloaded here
.
Anne Pringle from the Friends of Deering Oaks Park, and Diane Davison from Avian Haven spearheaded the fundraiser to pay for the sculpture and its installation. Funding came from birding enthusiasts all over the state and the country.