History
Gathering Stones is a collection of six large sculpted stone groupings by Maine artist Jesse Salisbury, arranged for interaction and social gathering. The artwork is located at Fish Point along Portland's Eastern Promenade Trail and was originally commissioned as a temporary art installation by TEMPOArt, a non-profit arts organization based in Portland, Maine. The artwork was later acquired by the Portland Public Art Committee to be included in the City's permanent collection in 2022.
Artist statement
Gathering Stones, this is both a reference to the playful desire many of us have to collect and arrange stones that we find in nature, and is also a reference to a large stone grouping that has the ability to act as a gathering place for people.
The negative and positive shapes of the large glacial erratic stones are arranged together to create a sculptural space that encourages interaction. Some stones are hollow inside encouraging people to walk through them or sit in them. The whole arrangement encourages people to step on, sit on, walk around and gather with others inside the arrangement. I imagine this arrangement of large boulders suddenly appearing on Fish Point as if collected and levitated from the area fields and beaches, mysteriously cleanly shaped, and then playfully arranged, appearing magically to surprise morning walkers and then becoming a destination and gathering point.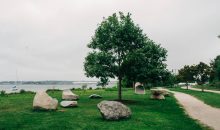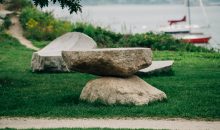 Images courtesy of Sharyn Peavey © 2020